Its a Friday morning at 7.30am and I am sitting in a cafe getting some work done before my first meeting.
There are about seven of us in there, including two people furtherest away from me. Their voices are loud and it is obvious it is a leader having a 'catch-up' with one of their team leaders to review progress, and discuss successes and challenges.
There were two things that were problematic about this:
Due to the nature of the conversation, this was obviously a conversation that should've been occurring in a private, rather than public setting.

Secondly, it was an obvious sh*t-fest. The leader would ask about something, the team leader would answer by deflecting any ownership over issues onto their team. And to top it all off, the leader would then collaborate with the team leader in 'dissing' the team members! It was layer upon layer of excrement!
According to the Blake Mouton Model , the most effective leaders value tasks and people equally. They commit to their organisation's goals and motivate their team members to do the same. At the same time, they do everything they can to look after their people's interests. This might include helping their team to deal with issues, making sure that they are happy at work, and taking the time to build relationships with them.
But a leader can only help their team members to reach their full potential and meet their objectives by getting to know them. The best way to do this is to hold regular, structured, one-on-one meetings with each of them. This allows you to keep them focused on their objectives, and helps them to understand their contribution to the "bigger picture."
These regular meetings give your team an opportunity to air issues with you, or to ask you questions. They can also help to foster a spirit of honesty and openness within your team. This trusting environment enables people to give and receive feedback effectively, and to uncover areas where further training or personal development is both needed and wanted.
Below are a five tips in how to have an effective 'Catch-up".
The right venue: Select a venue that is both relaxing, on neutral territory, yet private. If you chose to go out for coffee, be very careful to ensure you are not overheard.

The right timing: Ensure they are regular and you honour the appointment. If you are wanting to develop trust, you need to be consistently persistent and persistently consistent in your approach. By showing that these meetings are important to you, your team will take them seriously and prepare for them properly, too.

The right scope: Depending on time, 'catch-ups' usually consist of the following:

The content of your meeting should fall into three main categories:

The goals, planning and feedback that you want to cover.

Any issues, suggestions and solutions that your team member wants to raise.

A wider, informal discussion about progress, personal development, training needs, and how your team member feels about his role and what you can do to support them.

The right tone: There is a balance between between being open and being professional. The art is finding the right mix for each person so they feel comfortable. The danger is in becoming too informal or too professional to the extent that the catch-up turns into what I was hearing, or is that formal that it doesn't engender trust.

The right outcomes: It's easy to finish a powerful conversation and plunge directly back into the hum-drum of work without noting agreed actions. So be sure to agree clear conclusions about what needs to be achieved before your next meeting together, what their and your responsibilities will be after the current meeting has ended, and how progress will be measured.
So, if you are not already having 1:1 catch -ups, I highly encourage you to give time to this. When doing so, consider the above tips.
…And please don't get to the point where someone like me comes up to you in a public place to let you know your conversation can be heard and to suggest that maybe it needs to be taken to a more private venue!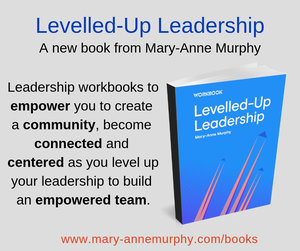 Work with me | Speaker | Coach | Facilitator more info here
Events | Women in Leadership | Levelled-Up Leadership PD Training more info here
Get more Mary-Anne | Taster Sessions | Professional Development for Leaders more info here
Community | Mary-Anne moments | Chit Chat with Mary-Anne | Connections more info here